Campus & Facilities
Maharaja Polytechnic takes pride in providing infrastructure comparable to any national level Polytechnic. All machines and equipments needed for the prescribed curriculum are available in the laboratories and workshop which are managed by qualified and experienced faculties and support staffs.
Classroom:
The Institute has four storage building with sufficient number of class-rooms and tutorial rooms of requisite seating capacities. The classrooms are well decorated and airy to give the students a good educational environment. The seating contours are specially designed for comfort which is necessary for concentrated study.
Library:
The Library is the nerve centre of Maharaja Polytechnic. The Institute takes pride in its state-of-the- art library infrastructure and resources. Well furnished and spacious reading room forms part of it. The library is entirely devoted to the academic needs of the students and faculty. It offers a wide range of books and journals on engineering, applied science and humanities. The Library is fully automated and having a huge collection of books on Engineering, physics, chemistry, English, Mathematics. The college library is functioning with the objective of providing services to its members in order to promote educational excellence in Maharaja Polytrechnic. Important local, regional and national dailies in English and Hindi are also an important part of Newspaper section of the library.
Computer Centre:
The air-conditioned Computer Centre is equipped with state of the art hardware and latest software facilities to handle the data processing requirements of the faculty and students. All PCs are connected via a well-structured Ethernet LAN and Wi-Fi. Internet facilities are available.
Workshop: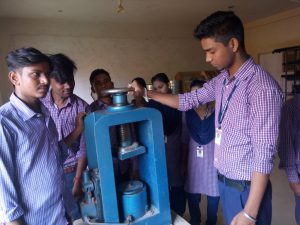 To achieve success in the field of job for an engineer, it is necessary to know the application of theory knowledge which is done in practice in the workshop. Workshop is active and effective part of technical education in Maharaja Polytechnic. Our workshop is equipped with machine like Lathe, Drilling Machine, Milling Machine, Shaper, Slotter, Planner, Grinders, etc. Complete safety is ensured while the students work or learn on these machines and equipments.
Laboratories:
The Institute is well equipped with state-of-the-art laboratories and modern infra-structure facilities to help efficient learning of science & engineering principles and hand-on practical training. All departmental (Civil, Electrical, Electronics & Telecommunication and Mechanical) laboratories are involved in experiments and projects. Physics Laboratory is well equipped with sufficient number of instruments and infrastructure. Chemistry Laboratory is well equipped to meet all the requirements with latest instruments. The faculty and laboratory staffs are highly skilled and experienced and keep themselves up-to-date with latest technologies and equipments.
Language Laboratory:
The fully air-conditioned Language Lab is meant for language tutorials. Mainly attended by students with less than adequate English skills, it also aims at confidence-building for interviews. It has sufficient Multimedia. Students can interact with the teacher through their headphones. Thus, every student gets individual attention and is able to learn at his or her pace and ability.
Common Room:
The Institute has separate boys and girls common room with indoor games facility like carom, chess etc. for overall development of the students. Spending some time in a stress release environment energizes students to pursue their goal of academic excellence.
Seminar Hall:
The Seminar Hall is fully air-conditioned and equipped with all modern amenities. It is extensively used for Workshops, Seminars & Conferences, Quizzes, and other technical events. It is acoustically designed and aesthetically decorated. It is fitted with all the modern audio-visual gadgets which include LCD Projector, Computer, DVD System, etc.
Canteen:
The college is equipped with a fully functional mess to serve hygienically prepared food to the staff and students. It is run by the Management under the guidance of the Principal and Mess Manager. A separate wings for both boys and girls has been provided, which can accommodate strength of 500 each. Vegetarian as well as Non-vegetarian food is served in the hostel. Mess charges are collected on an annual basis at the time of admission. Parents and guests are allowed to consume food without pay for them. The Institute has a modern canteen for staff and students providing quality snacks and meal items from dawn to dusk. Due care is being taken to maintain the hygienic conditions in the canteen.
Security:
Maharaja Polytechnic has a hierarchy security level for the safety of students and staff members. Entire campus is under the close scrutiny of CCTV night vision cameras, manned by the team of professionals, the footage of which is being closely monitored by dedicated persons in the control room. Entire footage is recorded for future reference and evidence. There are security guards at strategic locations inside the Institute campus and at main gates of the campus.
Transdportation:
A full-fledged Transport department functions in the college with buses to provide transport facility to students and staff from various places. This service is offered ensuring a hassle-free and safe transportation. The Institute runs sufficient number of buses for providing transport facility to students and staff members from various places in the city. All buses have predefined route and timings. All the drivers are well behaved, experienced and well trained for driving and possess valid licenses. For any problem regarding the transport facilities, students can contact the Transport In-charge of the Institute.
Hostel:
The College Hostel, located within the college campus, consists of two blocks, one each for boys and girls. It is a residence hostel for full time graduate and postgraduate students admitted to Surya group of institution. All community areas like dining room, common room, recreation room, wash room etc., are provided separately for boys and girls. The Hostel Committee, under the Chairmanship of Dean, frames the rules and regulations of the Hostel from time to time and is the final authority in matters concerning the management of the hostels.